The Farm

We have 240 acres total farms, with about 80 acres into noble fir Christmas tree production, and the rest being timber, horse pasture, and homes. With over 100 thousand trees currently in production, there are trees coming up in sizes of all ranges for years to come. Our trees are mostly produced between 1500' and 1650' elevation, in their prime growing environment consisting of a wet, cool climate and optimum elevation range for top noble fir production and color.

We attend seminars and expositions sponsored by our suppliers, organizations, other growers, and OSU extension services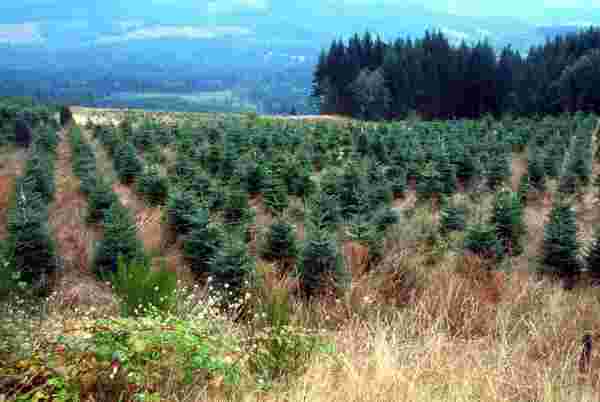 to utilize the newest information for production and tree health developments in the industry. This helps to keep us one of the highest quality producers of true noble fir Christmas trees.

We are also members of the Pacific Northwest Christmas Tree Association, National Christmas tree Association, and the Oregon Farm Bureau. You are encouraged to visit these sites (from our links) for information and facts about Christmas trees and the environment, care for your tree, and other interesting farm facts.
Also, be sure to visit our tree lot in Aloha, OR.
Map

Sky Ranch Tree Farm, Growing Family trees for Family Holiday's, Sky Ranch Tree Farm, Sky, Ranch, Farm, Christmas, trees, holidays, Christmas, trees, tree, Find the Perfect Christmas Tree, Tree Finder, agriculture, cultivation, christmas tree production, national, deer, reindeer, balsam fir, colorado blue spruce, canaan fir, concolor fir, white fir, douglas fir, eastern redcedar, eastern white pine, fraser fir, grand fir, leyland cypress, noble fir, norway spruce, scotch pine, virginia pine, white spruce, pine, fir, needle, wreath, plant, farm, christmas tree farm, plantation, planting, trimming, decoration, earth day, real, tour, school field trip, kids, children, education, teachers, teaching, national christmas tree association, christmas tree association, selection, care, history, characteristics, sources, games, activities, grower, farmer, producer, lots, harvesting, ncta, names, sales, white house christmas tree, holiday fire safety, fire safety, holiday, traditions, smell, aroma, types, species, facts, statistics, Find out all about Christmas Trees, Oregon christmas tree farms, real Christmas trees, choose and cut, Oregon Family Christmas Trees, Portland, Aloha, Hillsboro, Forest Grove, North Plains, Cornelius, Beaverton, Tigard, Sherwood, Eugene, Stafford, Banks, Oregon Cut, Santa, elf, elfs, Santaclaus, rudolf, red nosed reindeer, mail, online shoppingelves, Mrs. Clause, Dear Santa, Kids, Families, Pictures, Holiday, Elves, Santa, largest, Christmas Around the World, Oregon Business, Visitor information, local oregon links, Events calendar, History, Living, Bed, Breakfast, Vacation, northwest, pacific, Searching for the perfect Oregon Christmas Tree? Make it a special holiday experience with your family as you make a day of looking for your Christmas tree! Sleigh rides, cocoa, flocking, wreaths and more, wholesale christmas tree farms, wholesale Christmas trees, real Christmas trees, Christmas tree, trees, x-mas, wholesale, sales, dealer, wreath, wreaths, decoration, outlet, tree farm, fir, balsam, balsum, fraser, Fraser, frasier, x-mas, treefarm, cut-your-own, cut, Frasier, frazer, ballsam, seasonal, decorations, decor, wholesale distribution and cut your own x-mas tree farm sales





Phone:
503-647-2560
Fax:
503-690-1280
please call after faxing